Debits "N" Credits Bookkeeping
Debits "N" Credits | Jul 18, 2019
Debits "N" Credits Bookkeeping offers services by a Certified Bookkeeper with 20+ years of professional, accurate and efficient bookkeeping services. Established in 2009 we are continuing to offer full cycle bookkeeping services for small to mid-size businesses.  We are able to customize your needs to support your organization's current and future development. As professional and reliable bookkeeping services, our goal is to increase efficiency and allow you to focus your efforts on expansion and growth. 
Our bookkeeping solutions include:
new business start up
computerized bookkeeping
accounts receivable/accounts payable
bank reconciliations
payroll
government remittances
year-end preparation for the accountant
office organization
As a Certified Bookkeeping service, we can offer you peace of mind knowing an expert is looking out for all your bookkeeping needs.
Roberta Fraser,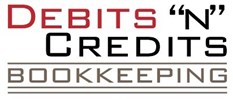 226.820.2626