Guelph Gryphons
Sep 18, 2019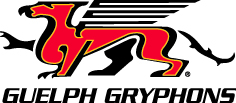 The Guelph Gryphons are the athletic teams that represent the University of Guelph.  There are 850 athletes on the university's varsity teams who compete in the Ontario University Athletics conference of U SPORTS while there are 12,000 participants in intramural sports.  At the grassroots level, the Gryphons are engaged with 10,000 athletes participating in youth sports in the community through the Jr. Gryphon program while another 3,000 local youth register for Gryphon sport camps.  The Gryphon brand extends beyond athletes through fan support, alumni or being one of the 3,200 staff and/or faculty.
With over 55,000 visitors per month to the W.F. Mitchel Athletic Centre or twin-community rinks or the popular Fryday Night Lights youth football series at Alumni Stadium, Gryphon athletic facilities are among the busiest recreation places to play in Guelph.  There are over 200 events per year that take place at Gryphon athletic facilities.  Facility benefits of the Jr. Gryphon affiliation program include reduced rates for field/ice rental to allow more participation while helping costs low for community user groups.
Community partnerships extend beyond the participants into local companies such as McDonald's Restaurants of Guelph, The Mortgage Guys, One Tooth Activewear of Guelph, Domino's Pizza and many more!  The local businesses have seen the benefits of connecting into the community through the Gryphon brand.
To learn how your company can connect into the Guelph Community with the Gryphons, please visit www.gryphons.ca or call Kevin at 416-938-9297.